Special Offer Pricing (limited time only):
Product
Speed
Setup
Price(+vat)
10Mb/s Leased Line
10Mb/s
&poundFree
&pound300
100Mb/s Leased Line
100Mb/s
&poundFree
&pound500
What Others are charging for the same product
In order to highlight how good this deal is, we have obtained some alternative quotations for a post code in central Manchester, one of the areas which qualifies for our special offer on 100Mbp/s leased lines.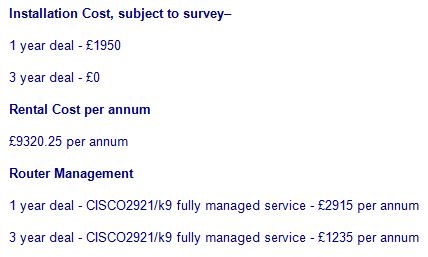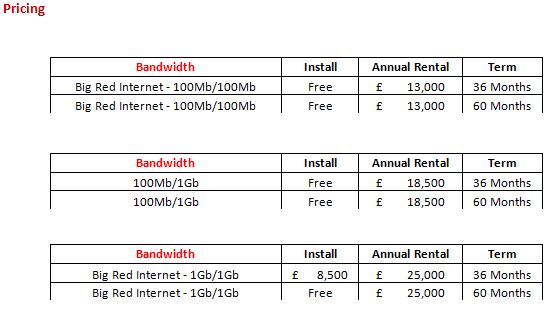 This first and cheaper of the 2 quotations is clearly more expensive than our offering, even before you add on the cost of a managed router. On a 3 year contract term , our 100Mbp/s leased line would come in at &pound13,665.75 less expensive.
The above pricing is based on a 3 Year Contract, with quarterly payment terms and is subject to survey and confirmed carrier costings at the point of order. Pricing may vary depending on the results of the survey or carrier availability at the premises. All pricing will be subject to VAT at the prevailing rate. For a comprehensive quotation, please utilise "Contact Us Online" above, or click here.

*The prices quoted here were from Talk Talk Business and Virgin Media for a central Manchester site. Both were provided in July 2012. A copy of both quotations are available on request.
.
UK Leased Line: Features

UK Leased lines from 256kbps to 1Gbps


Available with ADSL lines in the UK and ISDN backup services to provide resilience


Connectivity from multiple access points across the UK and internationally in over 100 countries


Full on-line reporting of utilisation, availability and latency included with every UK Leased Line


Connection to our fully resilient, independent, international network


24x7x365 UK Based Pro-active Support and Monitoring


Fully Managed, pre-configured and supported router/switch supplied with every UK leased line, including ongoing monitoring and optional customer alerts with our remote systems


Hardware support contracts are available, providing a guaranteed 4 hour replacement available 24x7.


Providing a high speed, reliable, secure and private Internet connection dedicated solely to your company


Optionally we offer Cisco IOS NetFlow reporting. This provides a key set of services for IP applications, including usage-based network billing, network traffic accounting, network planning, Denial of Service monitoring capabilities, security and network monitoring. NetFlow provides valuable information about network users and applications, traffic routing and peak usage times


Secure UK internet access with UK broadband internet lines or UK ADSL lines is available with our firewall service


VPN and remote dial access options are available for UK leased line customers


Pricing is subject to minimum 12 month contract on UK leased line broadband services


We offer Worldwide Broadband Leased Lines


Discounts are available on 2-5 year contracts